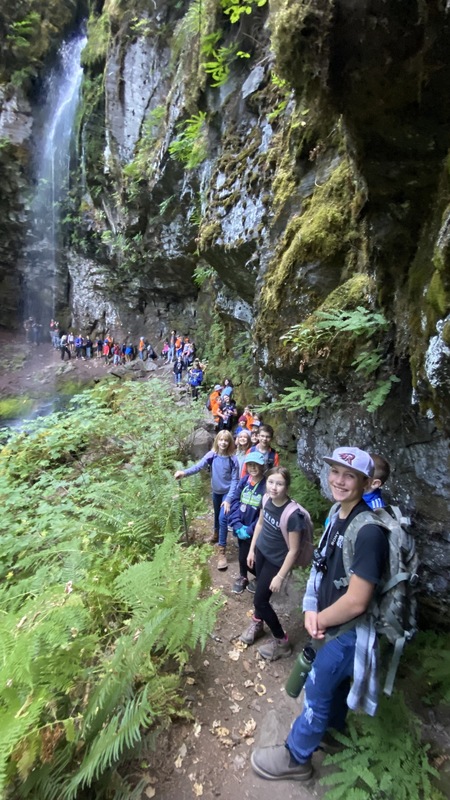 For more than fifty years, the Ridgefield School District has taken its entire fifth grade class to Cispus Outdoor School. Unfortunately, COVID restrictions put Cispus camp on hold for the last three years. This made it especially exciting for this year's fifth graders to be the first group to return to Cispus. Like many generations before them, they were elated with the life-changing experience of sleeping in cabins, enjoying outdoor classes, and hiking through the woods.
At Cispus, students do all of their learning outside, rain or shine. They enjoy hands-on activities like soil and water sampling, plant identification, and nature art. But they also learn how to build survival shelters, practice manners at family-style dinners, and keep the cabins and dining room clean. Learning is an all-day activity at Cispus.
Supervised groups of students explore the campgrounds, trails, and forest, learning about the ecosystems, resources, and wildlife of the Pacific Northwest. For many kids, it's their first time walking behind a waterfall or seeing bats hang in a cave. Moments like this create incredible memories that will last a lifetime.
Cispus is made possible by the support of the Ridgefield community. Teachers and students are assisted by dozens of camp counselors, high school students who likely attended Cispus as kids themselves. There are also community volunteers who take charge of all kinds of activities, from guiding hikes to teaching survival training. Many of the volunteers have participated for years, even scheduling vacation time from work so they can spend a week at camp.
All of this makes Cispus a once-in-a-lifetime event for fifth graders. For many of them, it's a first taste of independence away from home, and a chance to challenge themselves with completely new activities.
Principal Todd Graves was grateful to see so many students back at Cispus Outdoor School, the largest number of students yet. "It speaks to how important Cispus is to our community, that we had over 270 kids attend this year," he said. "Cispus is a system that really expands our kids' learning in a way you just can't find anywhere else."
Fifth grade teachers Amanda Burgess and Annie Pintler help plan Cispus each year, and they were equally grateful to see students return to camp after the long break. "For all of us, it was really good to be back," Burgess said. "The kids and counselors did so well. It was a super triumphant return!"
For everyone involved, it was a welcome return to a Ridgefield legacy, a week of camp that changes lives.