South Ridge Elementary School recently established a program to help students who are dealing with grief and loss, and two area companies have stepped up to lend their support. Last year, the New York Life Foundation provided no-cost training to South Ridge staff on how to support grieving students in a classroom setting, as well as a $500 grant toward their program. And Slumberkins, a Vancouver company that makes products to support social and emotional learning, donated its entire line of stuffed animals, books, and teaching curricula, including its products focused on grief and love. These generous donations will help ensure the success of the South Ridge program, providing immediate comfort and care for students who have lost a loved one.
The South Ridge program began when the school was certified as a grief-sensitive school through the New York Life Foundation. The certification training provides resources for school staff to address and assist grieving students and families. New York Life Insurance financial services representative Darren Davidson led the training for South Ridge staff. "Nationwide, one in 15 students will deal with the loss of a sibling or parent by the age of 18," he said. "But only one in seven teachers has had training in how to assist grieving students." The training helps close that gap, ensuring that there are more people in each child's life who are ready to come to their aid.
"The Grief-Sensitive Schools Initiative provides a one-time $500 grant to any school that applies, as long as they are willing to complete the training with at least five staff members," Davidson explained. "South Ridge did it right; they brought all of their teachers together to do the training." The $500 grant can be spent at the school's discretion as long as it is used to assist grieving students and families. South Ridge counselors saw several ways they could be proactive in helping grieving students.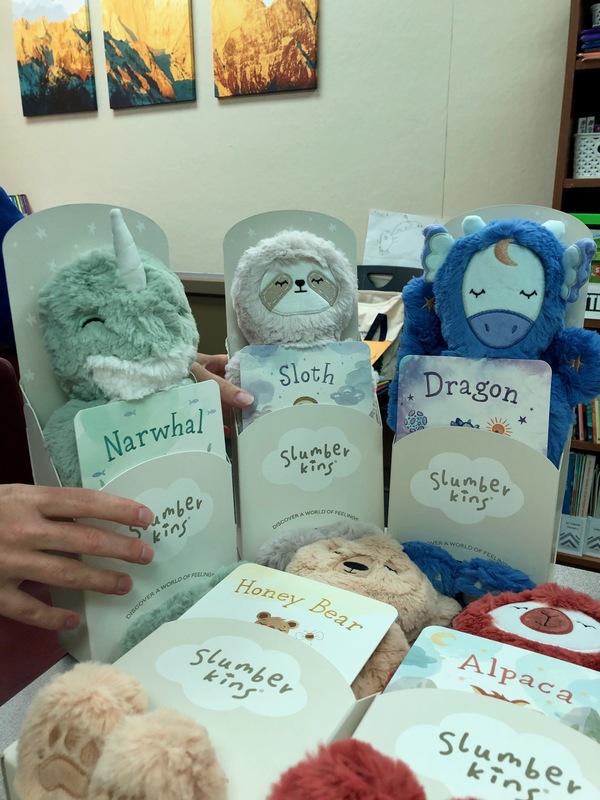 They implemented several new ideas, including resource libraries for teachers and parents, "calming corners" to allow students space and time to deal with emotions, and condolence kits for students experiencing loss in their immediate families. To help supply the calming corners and condolence kits with something to comfort students, they held a stuffed animal drive. It was a great success as Ridgefield residents filled five large bags to the brim with brand new stuffed animals. The school was surprised to receive a huge delivery from Slumberkins as well.
Slumberkins was founded by Kelly Oriard and Callie Christensen, who both have backgrounds in education. Their products, including soft stuffed animals called Kins, are designed to support social and emotional learning. Each unique animal comes with an accompanying book and teaching guide focused on one topic, like coping with change or managing stress. The Slumberkins line of Sprites is designed to provide lessons in grief and love—a perfect fit for the condolence kits.
"We wanted something we could provide to students and their families in that moment of loss," said Anna Moskal, a counselor at South Ridge. "It gives the kids something to hold onto, and gives the parents something that helps explain what to do and say in a challenging time."
The Slumberkins donation made it possible for South Ridge to expand the program far beyond what they had originally hoped. "The Slumberkins curriculum is something we can use in our Connection Center, and really, throughout the school," Moskal said. "By providing the Slumberkins animals, along with the classroom books and teaching resources we got from the Grief Sensitive Schools Initiative, we hope to really change how we address the needs of grieving students."
South Ridge Elementary is the first school in Clark County to display the Grief-Sensitive School certification on its door, but Davidson is happy to see the program expand. "I'm willing to certify any school that applies and can commit to having at least five staff members at training. We just want to help as many kids and families as possible."
Moskal and counselor Anne Lamping have been overwhelmed with the outpouring of support for South Ridge students and are grateful for the assistance from the community, Slumberkins, and the New York Life Foundation. "It shows the power of community working together," Moskal said. "It's going to allow us to expand this program so we can provide something special for kids and their families when they are most in need, to help them know how to support each other when they lose a loved one."