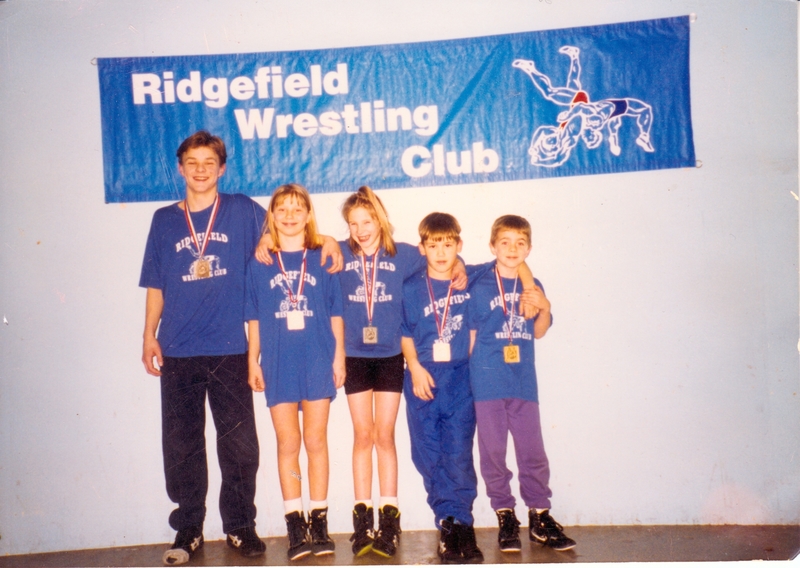 \r\n
Melissa Simmons spent her formative years in Ridgefield amassing a thoroughly impressive resume as a youth wrestler. You could say it's in her DNA, as her father, Kim Simmons, has been a wrestling, football, soccer and track coach here for decades. Last year, Melissa's many accolades culminated in her being inducted into the National Wrestling Hall of Fame and the first woman ever to receive their Medal of Courage award.
\r\n
Simmons was only 5 years old when she first started wrestling, and it soon became apparent that she was a natural. By the time she was 17 and about to enter her senior year at Ridgefield High School, she had already won seven national championships and been named an All-American.
\r\n
With nothing left to prove at the amateur level, Simmons made the decision to forgo her senior year of high school at RHS to pursue her wrestling dreams. She completed a GED program and moved to Marquette, Michigan to train at the United Olympic Education Center at Northern Michigan University, where she had a wrestling scholarship.
\r\n
"It was definitely hard to leave right before my senior year," Simmons said. "I know my dad was looking forward to coaching me my final year of high school. My entire family has always been tremendously supportive of my wrestling career, so they understood my eagerness to go to college and start training more intensively."
\r\n
Unfortunately for Simmons, all the momentum she'd been building for years came to an almost immediate halt. Within just a few weeks of arriving in Michigan, Simmons tore the anterior cruciate ligament in her knee while training. Sadly, things were about to get even worse. Much worse.
\r\n
Just a month after arriving in Michigan, Simmons' training partner and best friend at NMU, Toni Copeland, tragically drowned in Lake Superior. It was a devastating loss for Simmons, and she moved back home to Washington after just one year at NMU. As if that wasn't emotionally difficult enough, Simmons was in a serious car accident in 2006 on the one-year anniversary of Copeland's death.
\r\n
\r\n
Simmons was seriously injured in the accident when her face collided with the car's steering wheel. She suffered a damaged retina and a collapsed eye socket that needed to be reconstructed. After several surgeries and an orbital implant was put in place, doctors feared that she may never be able to fully open her eye again. To compound the issue, Simmons re-tore her ACL while starting to train for wrestling again. It certainly seemed like her competitive wrestling days might be behind her, so Simmons shifted her focus on rehabbing and volunteering as a coach at RHS alongside her dad.
\r\n
However, Simmons wasn't down for the count just yet. When she learned that Oklahoma City University was starting a women's wrestling program, she begged her doctors to clear her for competition again. Getting poked in the eye was definitely a concern; at the time, Simmons still couldn't fully open her eye, despite undergoing several reconstructive surgeries. Nevertheless, she persisted until her doctors relented, granting permission as long as she agreed to wear a protective mask to prevent further damage. Now, the only remaining obstacle was convincing the coaching staff at OCU to recruit her.
\r\n
"It doesn't matter if you're a seven-time national champion," Simmons said with a laugh. "It's going to be a challenge to convince coaches at the highest level to recruit you when you're a half-blind wrestler with a bum knee."
\r\n
Fortunately for Simmons, a lifetime of being in and around wrestling forged strong connections and relationships within the wrestling community. Chuck Bullard, a leader for USA Wrestling who held positions on the Junior Olympic Wrestling Committee and was the Washington State Wrestling Association State Chairman until 2012, reached out to OCU on her behalf and helped convince their coach to bring Simmons on board.
\r\n
It certainly paid off for OCU. While there, Simmons had a career record of 73-18 with 42 falls, winning a national championship in 2008 while finishing second in 2010 and third in 2011. Simmons helped OCU capture three team national championships and three National Wrestling Coaches Association National Duals titles.
\r\n
\r\n
After graduating from OCU with a bachelor's degree in kinesiology and exercise science, Simmons continued wrestling at the Olympic Training Center. She steadily climbed the national rankings (reaching as high as third), and it seemed like her Olympic aspirations were well within reach. Unfortunately, she tore her ACL for the third time and decided to retire from wrestling as she moved back home to Portland.
\r\n
However, she wasn't quite done with competitive wrestling just yet. While watching the Olympics on TV, Simmons realized she couldn't ignore her passion for wrestling and still had dreams she wanted to accomplish. So, she moved back to Oklahoma in 2012, serving as a volunteer coach at OCU and resuming her training regimen once again. A year later, Simmons was hired on as a full-time coach, which ultimately helped convince her to retire from competitive wrestling for good this time.
\r\n
"I tried to continue my training, but I simply couldn't give it my all while also trying to be a good coach," Simmons said. "I came to the realization that a competitive athlete has to be somewhat selfish to succeed, but coaches have to be selfless. It was simply time for me to shift my focus and help others achieve their goals."
\r\n
In 2014, Simmons became the Director of Operations for the North Carolina State Wrestling team in Raleigh. While at NCSU, she earned her master's degree in parks recreation, tourism and sport management, in addition to earning a degree in sports and entertainment venue management. Simmons also served as a coach for several USA Wrestling teams including University Worlds, Junior Worlds, Pan-Am Championships and was the first women's director for the state of North Carolina.
\r\n
In 2019, Simmons once again moved back to Oklahoma, where she is now the Director of Operations for the women's gymnastics team at Oklahoma University. While she is no longer coaching wrestling, she is proud to be an integral part of the operations for an NCAA Division I athletics program. It was while working at OU that she learned she would be inducted into the National Wrestling Hall of Fame.
\r\n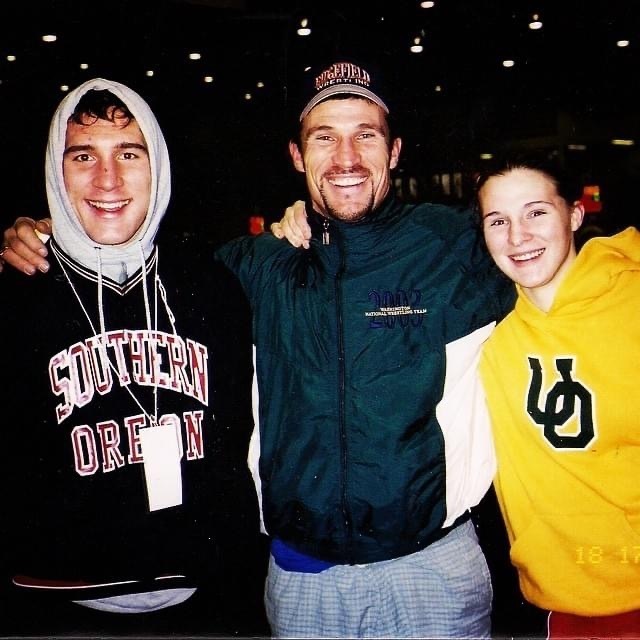 \r\n
"My former college coach called me and told me that he had nominated me for the honor, and to make sure I answered any phone calls from numbers I didn't recognize," Simmons said as she laughed.
\r\n
In June of 2022, Simmons was officially inducted and became the first woman ever selected to receive the National Wrestling Hall of Fame's Medal of Courage. A Medal of Courage recipient is "a wrestler or former wrestler who has overcome what appear to be insurmountable challenges, providing inspiration to others."
\r\n
With all of the injuries, setbacks, and personal tragedies she overcame, Simmons certainly embodies and captures the spirit of what it means to be "Ridgefield Resilient." She credits her perseverance to the community that helped raise and always supported her.
\r\n
"I wouldn't be here without the support of the entire Ridgefield community," Simmons said. "I owe everything to Ridgefield. My family, coaches, teachers, the district – everyone has always been tremendously supportive and understanding. I am deeply grateful and appreciative."
\r\n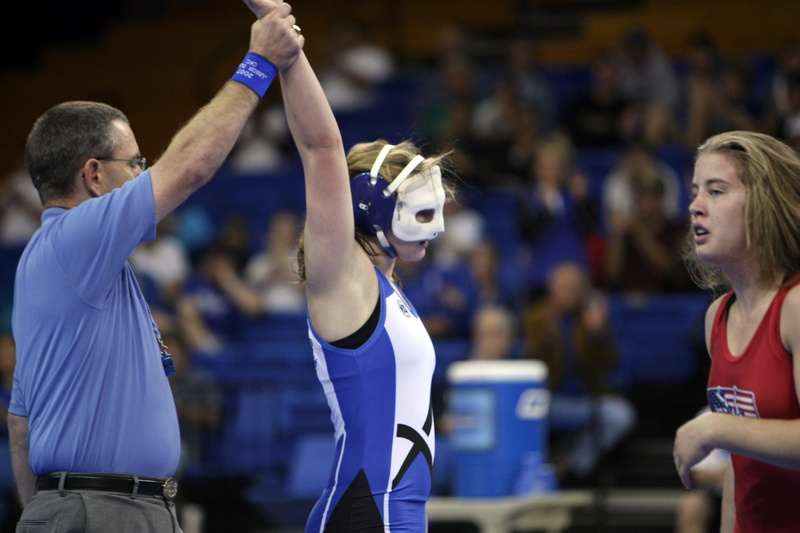 \r\n