ATTENTION FAMILIES: Tonight's scheduled Suicide Awareness event has been postponed. Once it has been rescheduled, we will share details about the new date and time here and in our weekly newsletter. Thank you for your understanding, and we apologize for any inconvenience.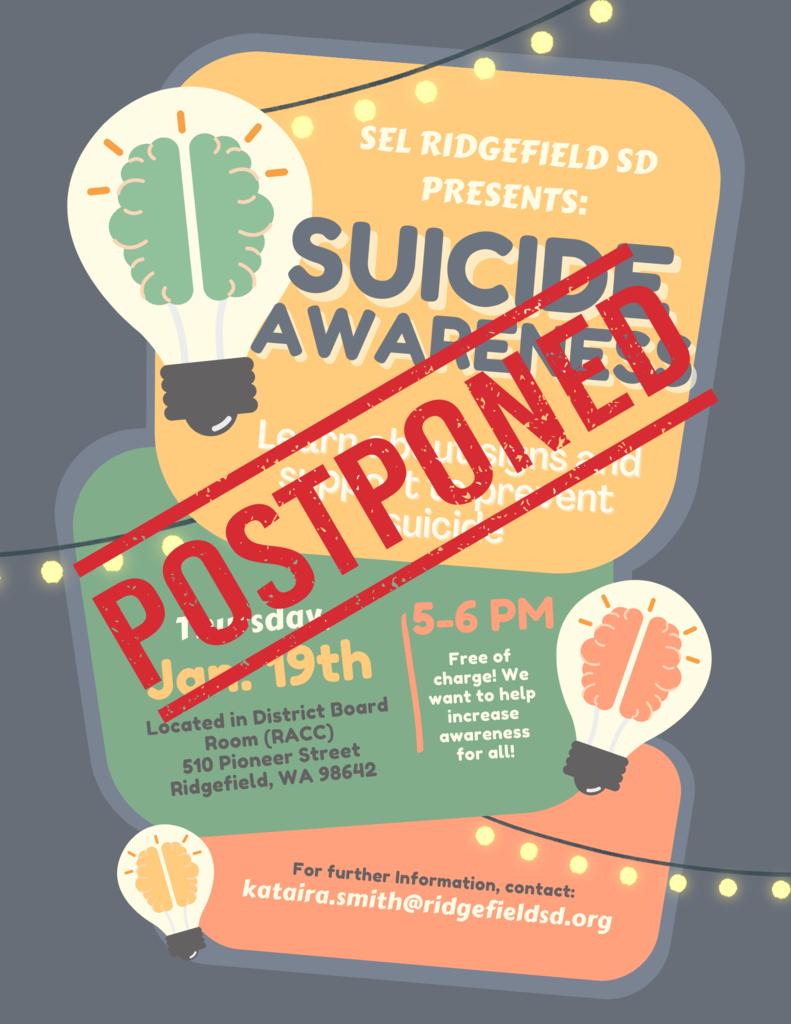 Reminder to families: there is no school on Monday, January 16 in observance of the Martin Luther King, Jr. Day holiday. Please note that the Ridgefield Family Resource Center will also be closed on Monday.
Ridgefield School District has rapid COVID tests available to the community. If you are in need of testing supplies, please reach out to your school nurse or drop by the District Office at 510 Pioneer Street.
It's time for the annual Empty Bowl fundraiser organized by Ridgefield High School's National Honor Society! Donations start at $20, and all proceeds benefit the Ridgefield Family Resource Center. The RHS Art Club and local artists are making and donating ceramic bowls, while NHS organizes the dinner. We hope to see you there!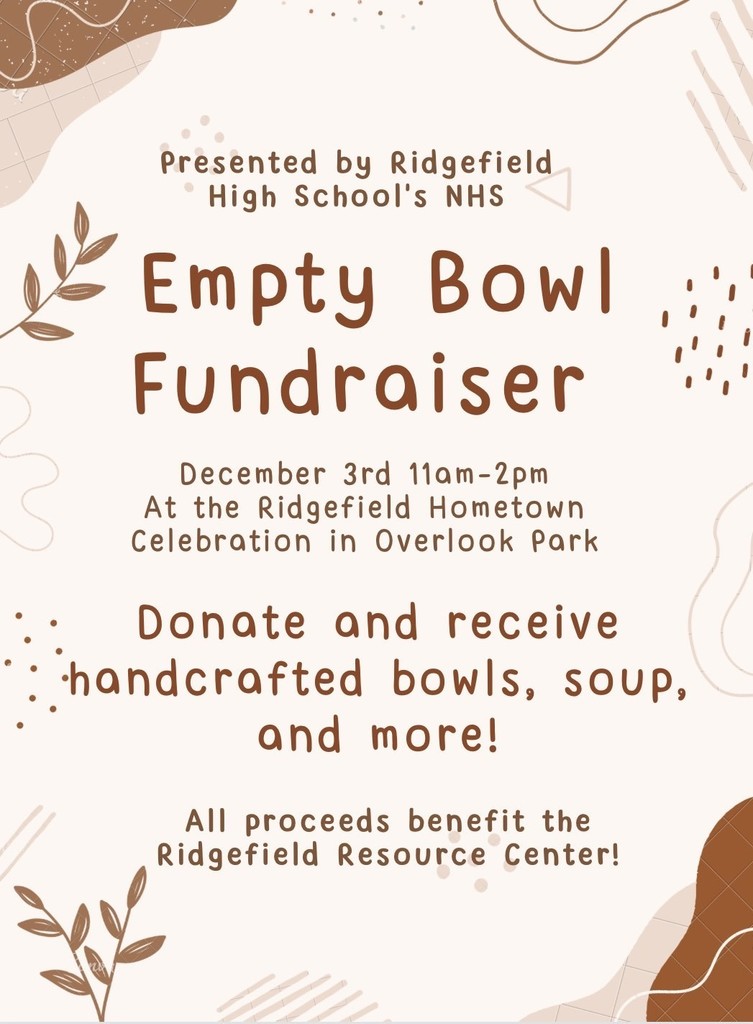 The Ridgefield Family Resource Center's hours will be limited the week of Thanksgiving. Next week, the RFRC will be open for shopping on Sunday, Nov. 20th from 10 a.m. to 2 p.m. and Monday, Nov. 21st from 1 to 5 p.m. The RFRC will be closed Wednesday, Nov. 23rd and Thursday, Nov. 24th (and the RFRC is always closed on Fridays).
Bell Studio's Picture Retakes Tomorrow - 10/28/22 SRIS Picture Retake Day Tomorrow October 28th. Here is the link to place orders.
https://vando.imagequix.com/g1000961175#login
Bell Imaging provides the complimentary service of reprinting any family's order that returns the original prints on retake day. If you have any questions, please contact Bell Studios Office: 503-556-5232
bellstudios@bellimaging.com
Due to the inclement weather and the road and traffic conditions, all schools are CLOSED on Monday, April 11th. This includes all after school activities.
Royle Road will be closed between Wells Dr. and S. Fieldcrest Dr. starting next Monday, March 7th at 7am, and will remain closed until Tuesday night, March 8th at 7pm. The closure is to accommodate the installation of underground utilities in the roadway. Please plan for additional commute time to get your students to and from school on time.

Good Afternoon, This email is a clarification regarding the "Unexcused absence(s) notification" email you may have received today. The automated email that was sent out was in error; it was an old notification that was not turned off – apologies to those who have received the email and do not have any unexcused absences to clear up. However, if you do have unexcused absences for your student – the best way to excuse these absences is by entering them in skyward. Please find attached steps for utilizing skyward for your benefit. Utilizing SKYWARD to your advantage: Skyward is an important tool that is available to you. It's convenient, efficient and is where you are going to find a great deal of important information regarding your student. For example, report cards, assignment grades, attendance, schedules, bus registration, fees, lunch menus and much more are accessible to you in Skyward. I encourage you to take a look at the attached links for tutorials to help you become familiar with how to utilize Skyward for your benefit. For instance, with regards to Attendance specifically, not only can you see exactly which class period/date your student missed or was late to, but when you enter one absence request, you have the option to request the same for any of your students' siblings in our district, eliminating the need for you to call each school separately or fill out the request for each student separately! Steps to Excuse your student's Absence: Parents/Guardians have three school days to excuse absences. You can excuse an absence by doing any of the following: 1. Complete an absence request form in Skyward. (preferred method) Skyward video instructions for your phone or Skyward Computer Instructions 2. Email the attendance office: 5th/6th grade -
sris.attendance@ridgefieldsd.org
7th/8th grade -
vrms.attendance@ridgefieldsd.org
. 3. Call (360)619-1402 Thank You.

Notification for 6th Grade Families: In mid October, our schools will be participating in the annual Washington State Healthy Youth Survey. The survey will be given to students in Grades 6, 8, 10 and 12. The Healthy Youth survey includes questions related to physical activity and diet, unintentional and intentional injury, substance use, sexual behaviors, abuse, risk and protective factors, and access to school-based services. Survey results are used by schools, communities and state agencies to plan programs to support our youth and reduce their risks. Participation in the survey is voluntary and the students' answers are anonymous. The school receives no student-specific information from this survey--only a report on results school-wide. Please read the attached Parent and Student Notification Letter for more information about the Healthy Youth Survey.
https://tinyurl.com/3j3tambs
If you wish to have your student opt-out of taking the survey, please call the main office and tell them the name of the student you'd like to opt-out. If you would like to come into the office to review the survey ahead of time, you are welcome to do so. If you have further questions, please email
jenny.berry@ridgefieldsd.org
Please also refer to this HYS FAQ Information Sheet for more information. Jenny Berry 5th-8th grade School Counselor


Thursday, August 26th from 4:30-6:30. Please note the more detailed times to help with social distancing. 4:30-5 PM 5th Grade (Last names A-K) 5-5:30 PM 5th Grade (Last names L-Z) 5:30-6 PM 6th Grade (Last names A-K) 6-6:30 PM 6th Grade (Last names L-Z) We are excited to meet you!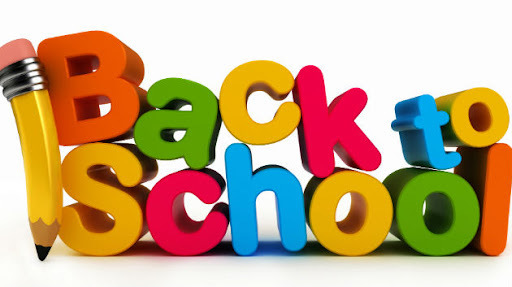 Missed an email? Check in News and or under Menu / 2021-2022 Emails. Need Bus Information? Click on Menu / KWRL Bus Information



Summer Office Hours. June 21st to June 30th and August 17th to August 30th Monday - Friday 7 AM to 3:30 PM

Missed an email? Check in News and or under Menu / 2020-2021 Emails. Need Bus Information? Click on Menu / KWRL Bus Information


5th Grade Hybrid Schedule (Mon, Tues,Thurs, Fri) A - 8:05am - 10:35am B - 12:05pm - 2:35pm Wednesday's - All students attend remotely

6th Grade Hybrid Schedule 8:05 am - 2:35pm A - Monday & Thursday's B - Tuesday & Friday's Wednesday's - All students attend remotely