ATTENTION FAMILIES: Tonight's scheduled Suicide Awareness event has been postponed. Once it has been rescheduled, we will share details about the new date and time here and in our weekly newsletter. Thank you for your understanding, and we apologize for any inconvenience.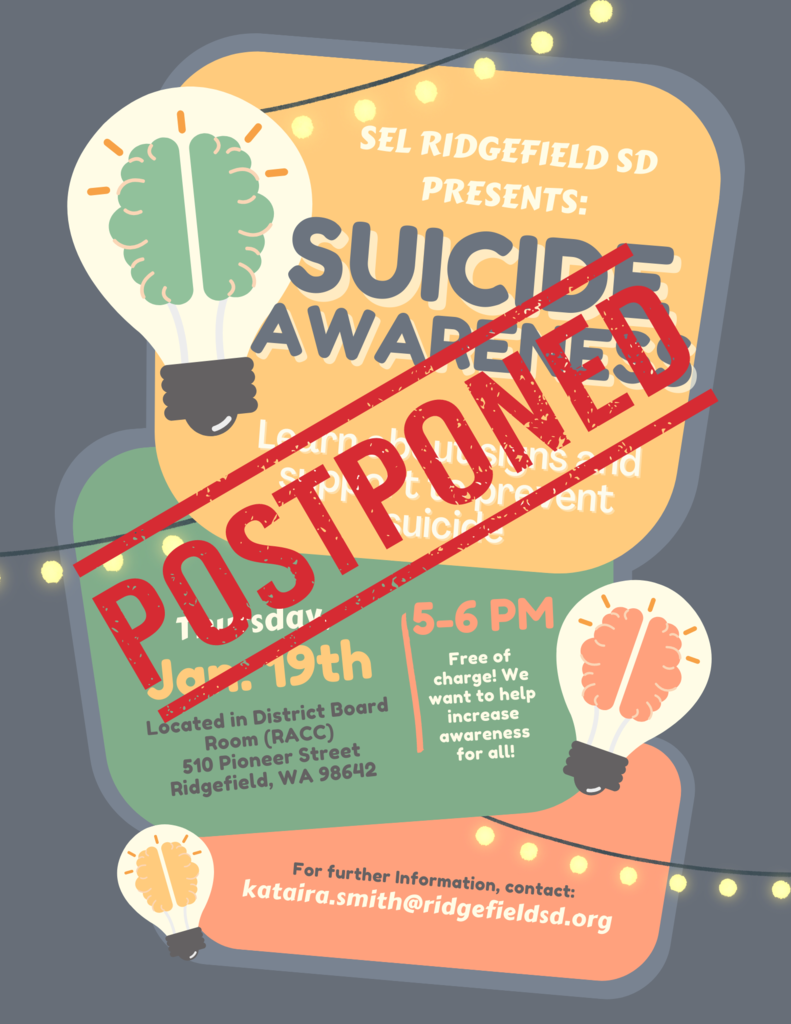 Reminder to families: there is no school on Monday, January 16 in observance of the Martin Luther King, Jr. Day holiday. Please note that the Ridgefield Family Resource Center will also be closed on Monday.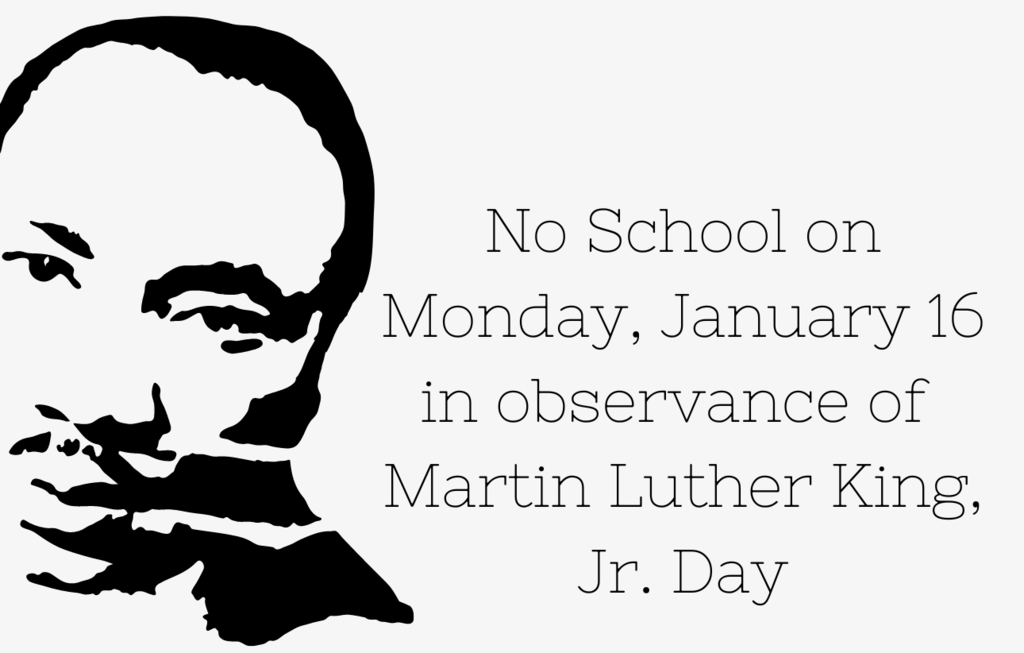 Ridgefield School District has rapid COVID tests available to the community. If you are in need of testing supplies, please reach out to your school nurse or drop by the District Office at 510 Pioneer Street.
It's time for the annual Empty Bowl fundraiser organized by Ridgefield High School's National Honor Society! Donations start at $20, and all proceeds benefit the Ridgefield Family Resource Center. The RHS Art Club and local artists are making and donating ceramic bowls, while NHS organizes the dinner. We hope to see you there!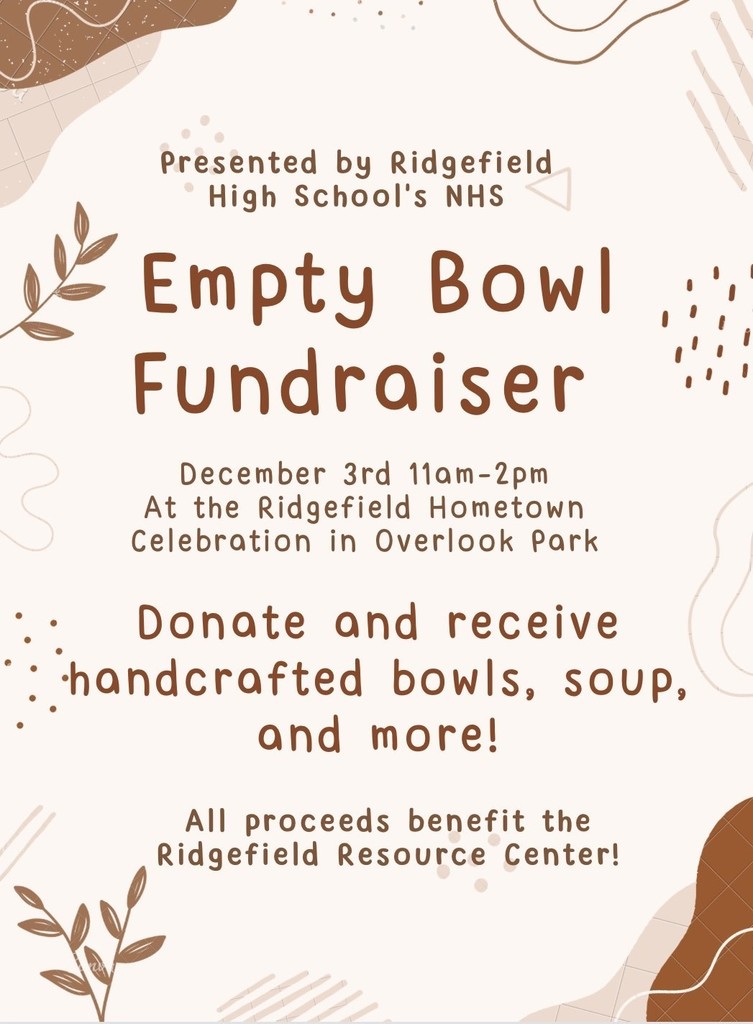 The Ridgefield Family Resource Center's hours will be limited the week of Thanksgiving. Next week, the RFRC will be open for shopping on Sunday, Nov. 20th from 10 a.m. to 2 p.m. and Monday, Nov. 21st from 1 to 5 p.m. The RFRC will be closed Wednesday, Nov. 23rd and Thursday, Nov. 24th (and the RFRC is always closed on Fridays).

SRIS/VRMS Band rental night tonight in Music rooms at SRIS/VRMS. 5:00 -5:45 - A -M; 5:45 - 6:30 - N-Z; 6:30 - 7:30 for anyone who can't make an earlier time..

Due to the inclement weather and the road and traffic conditions, all schools are CLOSED on Monday, April 11th. This includes all after school activities.
Royle Road will be closed between Wells Dr. and S. Fieldcrest Dr. starting next Monday, March 7th at 7am, and will remain closed until Tuesday night, March 8th at 7pm. The closure is to accommodate the installation of underground utilities in the roadway. Please plan for additional commute time to get your students to and from school on time.

Registration is now open for VRMS Girls' Golf. First Practice is Monday, February 28th.

Due to circumstances beyond our control, the Blended Orange and Blue games scheduled for this afternoon have been postponed. The 7th and 8th Grade Basketball games will be held as scheduled.

The 7th, 8th, and Blue Boys' Basketball Games at La Center tonight have been postponed due to circumstances beyond our control. The Orange Basketball Team WILL play at Woodland as scheduled.

Due to circumstances beyond our control, there are changes in the VRMS Football Schedule. The 7th grade team will play at Castle Rock on Wednesday, Sept. 29th at 5 pm in the Castle Rock High School stadium. The 8th grade team will play at Washougal at 6 pm in the Washougal High School Stadium.

Healthy Youth Survey: In mid October, our schools will be participating in the annual Washington State Healthy Youth Survey. The survey will be given to students in Grades 6, 8, 10 and 12. The Healthy Youth survey includes questions related to physical activity and diet, unintentional and intentional injury, substance use, sexual behaviors, abuse, risk and protective factors, and access to school-based services. Survey results are used by schools, communities and state agencies to plan programs to support our youth and reduce their risks. Participation in the survey is voluntary and the students' answers are anonymous. The school receives no student-specific information from this survey--only a report on results school-wide. Please read the attached Parent and Student Notification Letter for more information about the Healthy Youth Survey. If you wish to have your student opt-out of taking the survey, please call the main office and tell them the name of the student you'd like to opt-out. If you would like to come into the office to review the survey ahead of time, you are welcome to do so. If you have further questions, please email
jenny.berry@ridgefieldsd.org
Please also refer to this HYS FAQ Information Sheet for more information.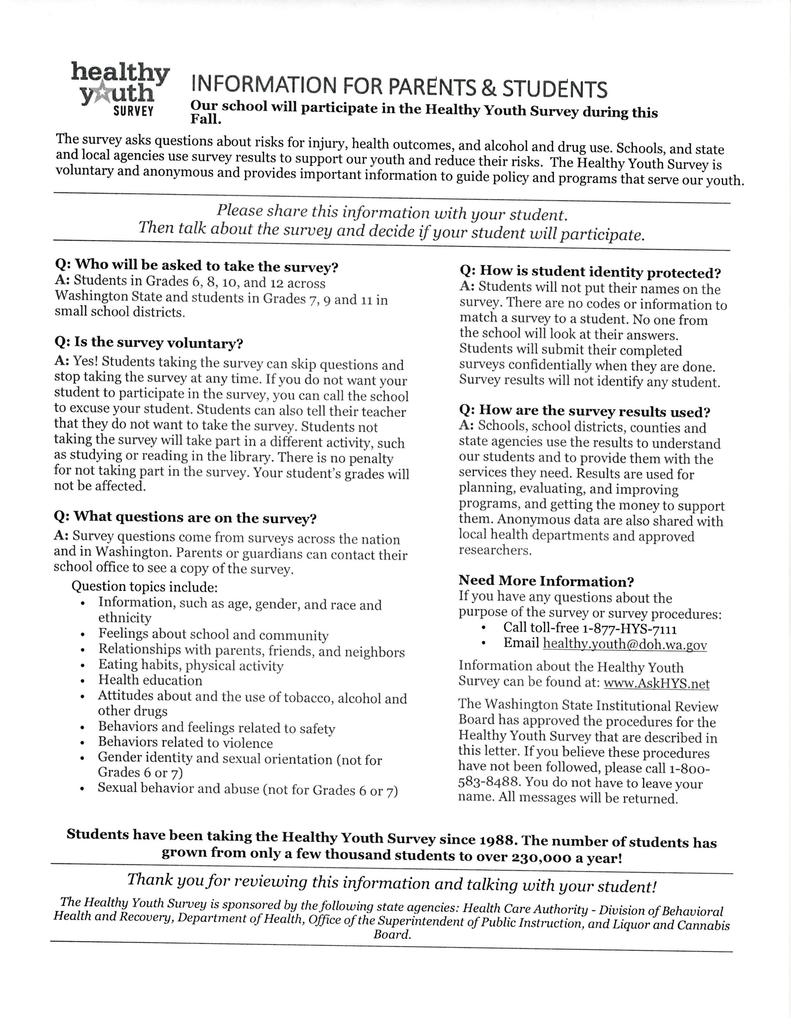 All VRMS Football Games for tonight have been scheduled due to circumstances beyond anyone's control. 7th & 8th grade teams will practice instead. Thank you.

VRMS Girls' Soccer game on Monday, Sept. 20th has been cancelled.

VRMS Cross Country Meet Changed. The home meet we were to host on Wednesday, September 22nd, will now be at Sacagewa Park in Longview at 3:30 pm. Address: 1199 NW Kessler Blvd, Longview, WA

Incoming RHS Frosh Nite - Virtual! Wednesday, March 24th, from 6 - 8 pm, join RHS Administration, Counselors, and Teachers to find out what to expect next year and how to make it a great year for you! Parents and future frosh are invited to attend this Zoom meeting. Zoom Address: https:/ridgefieldsd.zoom.us/j/83969815801 Don't miss it!

VRMS Students will be changing to a 6 period day effective this Monday, March 1st. See Principal Smith's Letter to Parents as well as the district website for more information.

Friday, November 6th is the end of Quarter 1 for View Ridge Middle School.