The first day of school is Wednesday, August 31, and we look forward to welcoming students back into classrooms for another great year of growth and learning. You may have heard or read about the ongoing labor negotiations between the Ridgefield School District and the Ridgefield Education Association (REA), which is the union that represents the district's certificated staff. While a new contract has not yet been agreed upon, the school year will start as scheduled tomorrow. The next bargaining session is currently scheduled for Wednesday, September 7, and we look forward to continuing negotiations with the REA. Please note that the first and last Wednesdays of the school year are not late start days. This means that Wednesday, August 31 (tomorrow) and Wednesday, June 14, 2023 (the last Wednesday of the school year) are not late start Wednesdays. Thank you for your continued support of our schools. District employees are all excited to welcome students back into our buildings and classrooms.
As of July 16, people experiencing a mental health crisis have a new way to reach out for help: they can simply call or text the numbers 9-8-8. The primary goal of the new number is to make it easier for people to call for help. Modeled after 911, the new three-digit 988 Suicide & Crisis Lifeline is designed to be a memorable and quick number that connects people who are suicidal or in any other mental health crisis to a trained mental health professional. If you are struggling, please reach out for help.
NOTICE OF SURPLUS EQUIPMENT FOR SALE Ridgefield School District has surplus equipment, bookshelves, desks and student desks, file cabinets, shelving, books, Chromebooks, desktop computers, projectors and other miscellaneous classroom supplies. These district properties will be disposed of no sooner than 30 days subsequent to the first publication of this notice. For further information, please contact Neil Brinson, Director of Maintenance & Operations, at (360) 619-1390. The sale will be held Thursday, June 23 from 8:00 a.m. to 3:00 p.m. at the RACC, 510 Pioneer Street, Ridgefield, WA 98642. Ridgefield School District will not be responsible for injury or damage to persons or property arising from or as a result of inspection, sale or use of any of the goods being offered for sale. All items are sold on "as-is, where-is" basis. The District makes no warranty, express or implied, as to the condition or fitness for a particular purpose of any of the sale items
On Sunday, June 5th, the Ridgefield Raptors are inviting RSD employees and kids up to age 12 to attend the game for FREE! The event will also feature performances by the Union Ridge Elementary School Choir, bounce houses, and more! The game starts at 1:05 p.m. Check out the flyer for details.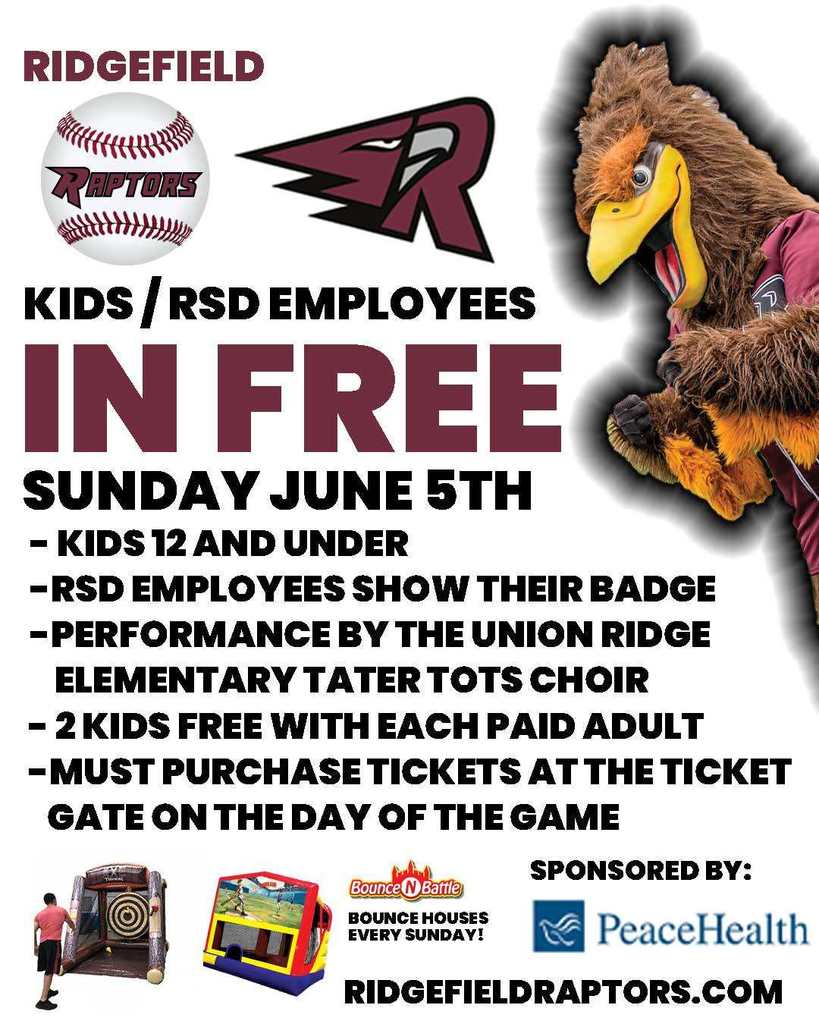 If you are headed to the Invitational Track Meet or the RHS Theatre performance of "The Music Man" on Friday, May 6, please be aware that these events are happening at the same time and parking may be limited. Please allow yourself a little extra time so you don't miss anything important!
Due to the inclement weather and the road and traffic conditions, all schools are CLOSED on Monday, April 11th. This includes all after school activities.
The Superintendent's office will be closed for official business from April 4th through the 8th for Spring Break. The District Office will be open over the break, however, staff will be taking time off, so we recommend calling ahead if you need to come to the office. Have a fantastic break!
Royle Road will be closed between Wells Dr. and S. Fieldcrest Dr. starting next Monday, March 7th at 7am, and will remain closed until Tuesday night, March 8th at 7pm. The closure is to accommodate the installation of underground utilities in the roadway. Please plan for additional commute time to get your students to and from school on time.
The Ridgefield Family Resource Center is also closed on Thursday, Feb. 24 due to inclement weather.

UPDATE - Due to inclement weather, all Ridgefield schools, including the Early Learning Center, will be closed today, February 24, 2022. All after school activities are also cancelled.
Join your fellow RHS alumni on Friday, March 4th at noon for the Annual Alumni Luncheon! If you plan to attend, please RSVP by Friday, Feb. 25th by emailing Dani Taylor at
danielle.taylor@ridgefieldsd.org
. We hope to see you there!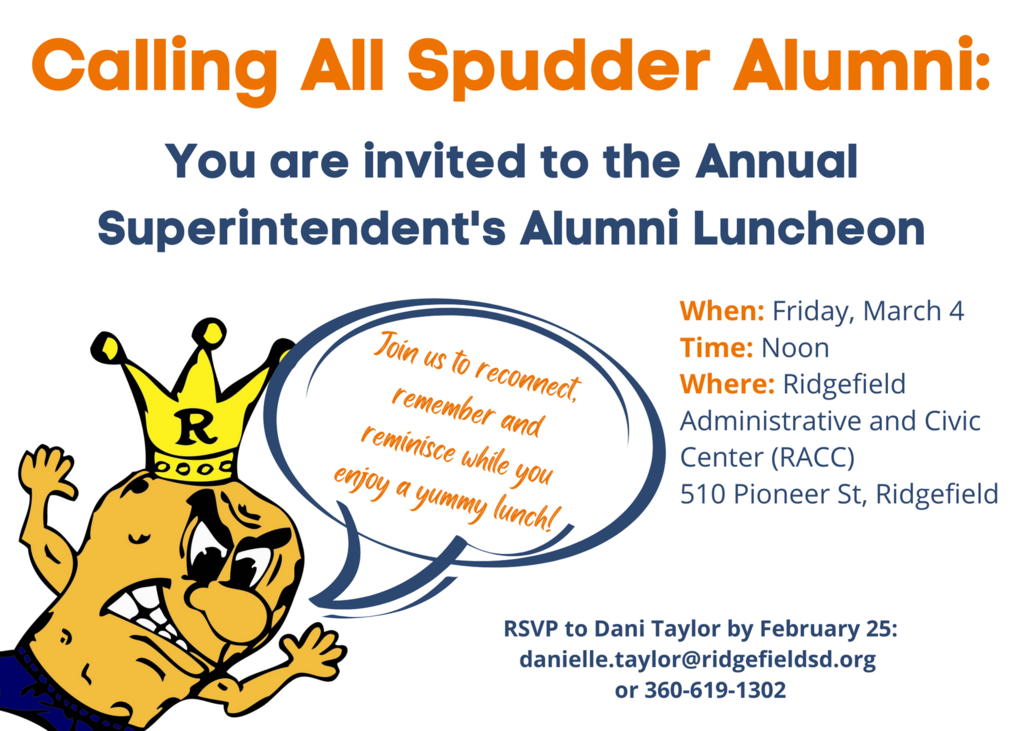 Today is Election Day! Be sure to return your ballot by 8 p.m. on Tuesday, Feb. 8th. There is a ballot drop box conveniently located in front of the RACC at 510 Pioneer Street in Ridgefield, but ballots can be returned to any of the 22 permanent drop boxes located throughout Clark County.
The RHS Theatre department is excited to announce this year's student-directed one act plays! The show features four different one acts that will be performed on Friday, February 4th and Saturday, February 5th at 7pm in the Performing Arts Center at Ridgefield High School. The four one-act plays feature about 50 students in the casts and crews working to make these productions possible, and we can't wait for you to see them! Tickets are free, but donations are always welcomed. We hope to see you there this weekend!

Ridgefield School District is pleased to announce the implementation of a new program intended to help limit the amount of time students will miss school due to being exposed to COVID-19. Starting this week, the district now has a "Test to Stay" program that enables students to remain at school if they test negative. Any student or staff member who is determined to be a close contact of someone who has tested positive for COVID-19 will have the opportunity to get tested using an antigen test while at school. Per the new Test to Stay Program, students will be tested (with the consent of a guardian) the day they are identified as a close contact and again 5 days after their last exposure. As long as the exposed person is not experiencing symptoms, has tested negative, and is able to wear a well fitting mask, they can continue to attend classes and school-related extracurricular activities. We will continue to notify families if their student has been identified as a close contact. Permission from a guardian is required to complete any testing. To grant permission for your child to be tested as part of the Test to Stay program, please complete this Google Form:
https://forms.gle/aNenGHaXDVaQh9HM7
Dear families, The omicron variant of COVID has hit the KWRL Transportation cooperative hard with many staff members calling in sick due to symptoms indicating potential infection. As you may know, KWRL serves four different school districts – Kalama, Woodland, Ridgefield, and La Center – and in an effort to be equitable and reduce the overall impact to students as much as possible, KWRL will be modifying certain bus routes for all districts over the coming days and weeks. Rather than put entire districts on delayed/modified schedules for the remainder of this week (Thursday, Jan. 20 and Friday, Jan. 21), individual bus routes in each district will be modified in order to impact the fewest number of students. During this bus driver shortage, Ridgefield schools will still begin and end following their normal schedules. However, individual students on affected bus routes will be on modified school schedules. On Thursday, Jan. 20, students who ride on routes 301, 307, and 309 will attend school following an early release schedule. Students who typically ride the bus for transportation can choose to ride with their parents and attend the full school day, but students who are riding those particular buses will be on an early release (half day release times) schedule on Thursday, Jan. 20. Of course, there will be no marked absences in the afternoon for any students on the early release schedule, and teachers and school administrators will work with these students to ensure there is no loss to their learning due to the modified schedules. Any further changes to bus routes will be announced using the same communication methods that we use for inclement weather including direct email, FlashAlert, and on the district website at
www.ridgefieldsd.org
. We apologize for any inconvenience that families may experience from these route changes, and we hope you understand that we are doing everything we can to reduce the overall impact to school schedules and minimize the number of affected students and families. Thank you for your support and understanding as we continue working to serve students and the community through the COVID pandemic. Sincerely, Ridgefield School District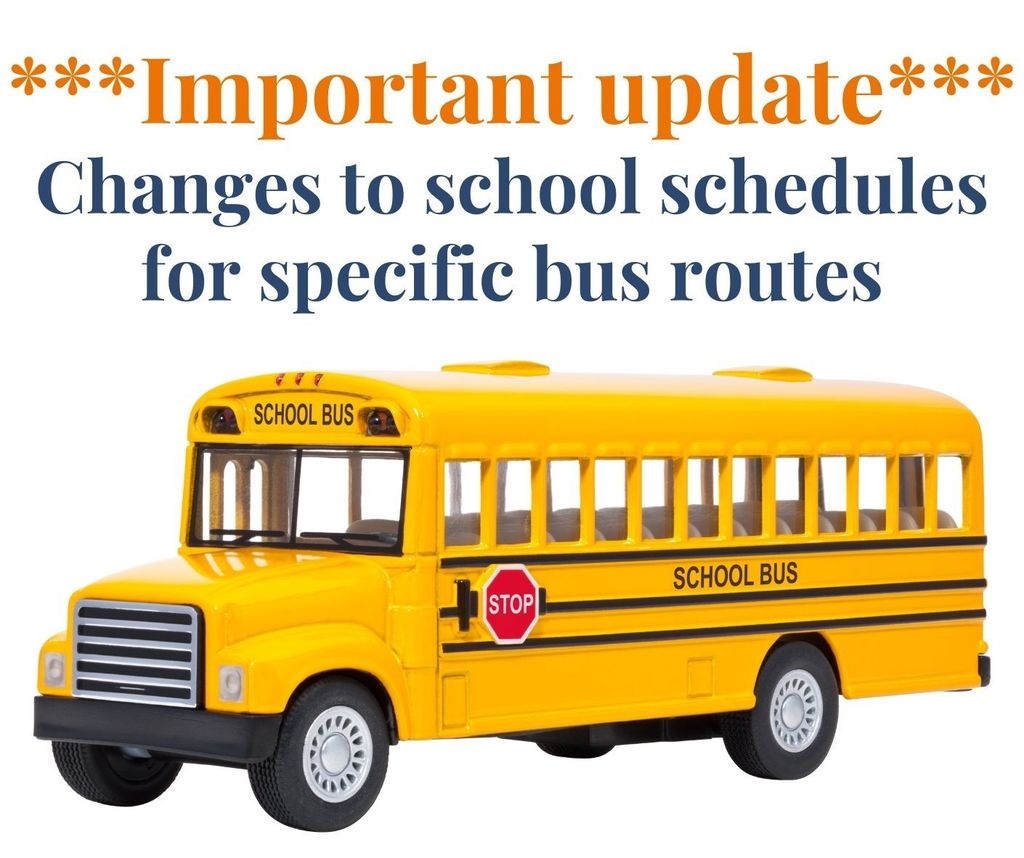 Annual Notification Referral for Highly Capable Program Referrals for testing for participation in the Ridgefield School District's Highly Capable Program for the 2021-22 school year are currently being accepted. Anyone may refer a student including parents, teachers, other students, and members of the community. Highly Capable Program services are designed to address the needs of highly capable students in grades K-12. Your school has copies of the "K-12 Highly Capable Program Overview" explaining the program goals, identification process, service model and the schedule for testing. Referral forms are available online at RSD Highly Capable Program webpage. Click on Referral Form to download this form. Students in grades 1 through 7 will be tested in March/April for possible placement in the upcoming school year. Kindergarten students will be tested in April. Once your student has been scheduled, the date will not be rescheduled except for a true family emergency or illness. Referrals must be returned no later than February 4, 2022. You may email the referral form to
highlycapable@ridgefieldsd.org
or mail to: Highly Capable Program Ridgefield School District 510 Pioneer Street Ridgefield, WA 98642
Second graders at South Ridge Elementary School enjoyed spending time with local law enforcement officers from the Clark County Sheriff's Department. This is the fourth consecutive year that SRES students took part in the Police Activities League (PAL) activity, where they learned about basic safety like when and how to call 911 and why it's important to ask for help. Then, the students gathered around for story time, as Detective Lau read the book "Llama Destroys the World" by Jonathan Stutzman.